I've told this story before, but to me it never gets old, and I figure I have some new readers. Plus this link up today was just too cute to pass up! So if you would like to share the story of how you and your husband or fiance got engaged link up with
BabyBerry
to tell your story! I am a complete sucker for love stories, so I've enjoyed reading them all! =)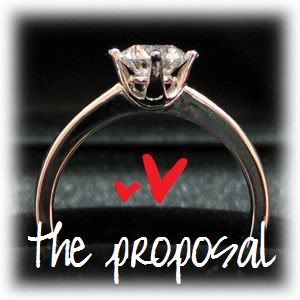 When: April 29, 2010
Where: Pensacola Beach, FL
It was a Thursday night in late April 2010 right after my finals were over. Nothing particularly special or out of the ordinary about it. I was still working as a server in a sports bar at the time and had to close that night. Stephen was driving his motorcycle at the time, but it was in the shop so he borrowed my car after dropping me off at work to "have dinner with his family".. little did I know!
I was working with his sister that night and as it came time for us to leave she handed me my keys and an envelope. I was confused, but she refused to answer and ran off to her car(If you know my sweet sister-in-law, you know she can't keep a secret to save her life! She had to get out of there before she spilled the beans!)
Well I opened the envelope to discover I was being sent on a scavenger hunt. (By this time I had a pretty good idea of what was coming and called my good friend Caitlin on the drive out to the beach freaking out!) I had to follow a series of cute clues that took me out to my favorite place, Pensacola Beach. My last clue was at the front desk of a hotel, and I had to go ask the front desk clerk for it. (Side note: I'm painfully shy at times and this seemed so awkward I was not keen on the idea!) I made it to the hotel, and went to the clerk to ask for my "clue". He had to hide his smirk as he asked my name, handed over a room key, and directed me to the room.
I got in the elevator and my heart was pounding! I was so excited I was going to jump out of my skin! I finally make it to the door of the hotel, but I stop. I heard a bunch of voices inside. Hmmm....
I opened the door to find Stephen with several of our friends. Boo. Disappointment. He gives me a kiss and says surprise I thought you would want a break after finals were over so I got a little beach get away. Double Boo. He had packed me an overnight bag so I changed out of my work clothes, and we all decided to head down to the beach.
The weather was gorgeous. It was a full moon and it was huge over the water. It was really breezy so it wasn't too hot for Late April in FL. So we all went for a walk. At one point Stephen called me down to the water to show me something. He gave me a kiss and started rambling nervously, and the next thing I knew he was down on one knee! Not what I was expecting! He said some sweet things that are just a blur now and pulled out the most beautiful ring I had ever seen!
Of course I said "yes!" He put the ring on my finger and then we went to celebrate with our friends. Absolutely perfect proposal, and just so us!
**He has some hilarious stories of his original proposal plans for that night, that didn't quite work out due to wind and a life guard truck that picked up his cups with candlesinside that spelled out "Marry Me?" One day I will have to get him to share his side of the story with you!