Well it only took me 6 weeks to get back to normal, but I finally did it! So on with one of my favorite weekly link ups, Thursday 5! Is it just me or is this week dragging on? I feel like I've gone through 5 Thursdays already this week! But alas.. here it is!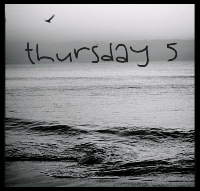 This week's words are:
1) Last night was so Nice

! We were finally able to relax. We went to Ollie's (a Milton favorite) with Mixson when they got off work. It was my first Ollie's experience and I have to see it was pretty good! We will be going back I'm sure. After dinner I did a little unpacking then we just hung out and looked for furniture online.
2) Our July schedule came out at work, and I somehow managed to get the ideal

schedule for 4th of July! I'm pretty excited about that! We haven't made plans yet because we were waiting on my schedule, but now we will be! I'm the 3rd, 4th, and don't go in until noon on the 5th! Hello 4th of July celebrating!
3) I'm off ALL weekend this weekend! I plan on making it an Enjoyable

one! I'm cooking dinner tomorrow night and my sweet friend Whitney is coming over to eat and bringing her beautiful baby! I'm so excited. I finally unpacked all my wedding gifts and it's been so much fun to cook with them!
4) Just going to put it out there that the cost of moving is Outrageous

!!! All the utility companies and their "connect/disconnect" fees and what not.. It's all a crock if you ask me! But I suppose that no one did..
5) My sweet baby boy, Natty has been so Lovable

since we moved. I think he's still adjusting to the new house and has been wearing himself out playing in his new big yard so at night and in the morning he's just been a love bug!
Hope everyone has a wonderful Thursday! Remember tomorrow is FINALLY Friday!