Not enough time in the day these days, so when I get a second, I'll just go ahead and write both! :) How is it already Thursday?!? Head over and link up with Nicole@ Flip Flops and Combat Boots for Thursday 5!!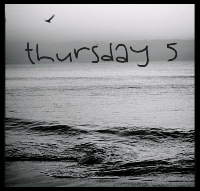 This week's words:
Dazzling
Spectacular
Terrific
Perfect
Ecstatic
1) We went to see Disney on Ice tonight with my wonderful cousins and the show was
Dazzling
!! We had such a good time, and the best part was playing with sweet baby boy Trae! He is such a little doll! He definitley keeps us all entertained!
2) (Other than this morning) The weather has been

Spectacular

!! Warm and sunny, but thankfully not too hot and humid yet!
3) I finished ALL of my undergrad assignments as of yesterday and it feels

Terrific

!! Just my finals now and I'm FREEEEEEEEEEEEEEEEEEEEE!
4) Tonight, I get off work at 5 and I don't have to work anywhere else! :)

Perfect

night at home with my almost hubby is what we have planned! I'm cooking a yummy dinner and then we'll watch a movie.. can't wait for quittin' time tonight! :)
5) Today OFFICIALLY marks exactly ONE month til our wedding!!! Words can't describe how

ECSTATIC

I am!!!!!
I know my Thursday 5 seems pretty redundant the last few weeks, but I promise my life will change soon! After next week, no more school!! So I'll be working full time and hopefully have more interesting things to talk about. And in just a month we'll be married so no more wedding talk, just newlywed stories! Bear with them.. I'm in the middle of some HUGE changes, but I'll be more interesting soon I promise!!
Happy Thursday y'all! :)