Here is my other favorite weekly link up.... Thursday 5!!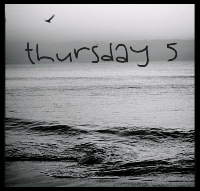 A huge thank you to Nicole from Flip Flops and Combat Boots to hosting this one every week! :) LOVE it!
This weeks words:
Delicious
Exciting
Awesome
Rewarding
1) Tonight I copied my mom and made one of Stephen's favorite dinners. Pork tenderloin, fried(mexican lol) rice, and green beans. It was
Delicious
! So glad my mama's such a good cook!
2) I had a very
Exciting
job interview the other day and I feel like it went very well! Still praying it works out and hoping to hear back very soon! :)
3) The weather here has been
A
wesome
!! So warm during the day for getting tan, but cool at night. Stephen and I actually ate our dinner outside on our balcony tonight.. soooo relaxing!
4) Graduation is just over two weeks away now! It's so
Rewarding
now to look at a class syllabus and see that everything is done but taking finals! Oh how I will NOT miss undergrad!
5) Got a phone call tonight from Trae baby.. he's little voice is too cute! He's growing up so fast and these little moments are
Priceless
!! It's so funny to see how much he's grown up already! :)
isn't he a doll?! I just love him to pieces!
It's been a wonderful week and I can't believe it's already Thursday!! Long weekend ahead working for my dad at the jazz festival in panama city, I will be sure to take pictures and will try to post again when I get a chance.
Happy Thursday y'all! :)