Yup, believe it or not it's already Thursday! I'm not entirely sure where the weeks keep going! But I'm not really complaining! I love weekends(well the weekends that Stephen is off!) because we can stay up past 10 pm, go to the beach, and just enjoy hanging out together! I also love that now I only have
THREE
more weeks of school left til graduation.. that's just CRAZY! It also means we're at the 6 week mark on the wedding countdown! WHOA!(In fact, we're coming up on the first anniversary of our engagement :))
But I digress, back to my original reason for this post, it's that time of the week again! One of my favorite link ups, it's time for my Thursday 5! I love linking up to this creative post by Flip Flops and Combat Boots, so you should get creative, grab the words and the button and link up too!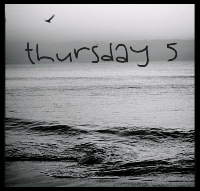 This week has a fun little twist. Nicole chose to use Boston slang words. I had to laugh when I read them. Being that I'm from the deep south and most of these words I've never used in my life, this one may prove a little tricky! But here goes nothing!
Wicked
(definition: very)
Mint
(definition: excellent!)
Pissa
(definition: cool, good)
Fresh
(definition: describes any undesired behavior)
Wicked Pissa
(definition: something is so cool there's no words to describe it)
1) As I posted above, I am
Wicked
excited about the next several weeks! Time is flying and there is so much to countdown right now!
2) Some of the most
Mint
people ever are throwing my bridal shower on Saturday and I'm beyond excited! :)
3) After many missed dates, I will finally be hanging out with my long lost friend, Scotti tonight. I'm thinking that making a
Pissa
dinner here at the house and having some wine will make for a relaxing evening! (Orrrr maybe 99cent margarita night at los rancheros.. ya never know! ;))
4) So my apartment complex managers thought it would be a good idea to resurface our balcony ceilings. I think this idea is more
Fresh
than anything and it is really getting on my nerves!
5) So I just wanted to say this morning that my mom is
Wicked Pissa
!!! She always has been, but she's been super incredible with all this wedding stuff! Seriously, without her nothing would be done! She text me this morning to let me know the wedding invitations went out today.. Eeeeeekk! I can't wait til people start getting them and we start getting our RSVPs back!!! :D
**Side note: I'm laughing because when I link up and Nicole, or anyone else actually familiar with Boston slang will probably laugh at my ridiculous attempt at the words! They were amusing if nothing else! :)
I know I post about wedding stuff all the time(and i'm sure that gets a little old!), but I rarely post about the real reason for the day. I'm beyond ecstatic to be marrying my BEST friend! Seriously, he makes me laugh like no one else, and he laughs at how truly goofy I am. He's one of the few people I feel so comfortable letting my guard down completely with and just being the complete goober that I am. I love that we both love cooking dinner at home, then spending the rest of the night on the couch watching movies or jeopardy because we're both big dorks! :) He really is my other half and I'm SO thankful to have him! :D
Ok enough being mushy for today! Time to go get something done.. remember it's Thursday only one more day to the weekend.. so smile!!