It's Friday! So for the rest of your millie's you know that it's time for the MilSpouse weekly round up. As the "rules" state you don't have to post a new blog, but you can just link up on from previously in the week. Well nothing too exciting happened this week, so I found a military themed survey that I thought would be appropriate for the link up. All you other MilSpouses grab the button and head on over to
Our Crazy Life
to link up!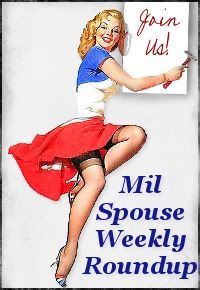 1. How long have you been a military wife?
I'm technically not a "wife" until next month. But i've been a very proud Air Force Fiancee since May of last year.

2. What branch of service is your husband?
United States Air Force- Fly. Fight. Win!! :)

3. Active/Reserve?
Currently Reserve, but we're hoping there's opportunity to change that down the road
4. What is his job?
C-130 Crew Chief
5. How many deployments have you gone through?
None yet, he was gone for 9 months with BMT and AIT so we're enjoying this training period and hoping we get a break first
6. Camo or dress uniforms on your man?
ABU's for sure!! Something about those uniforms are very hott ;)
7. What do you like about being a military wife?
Well, we haven't been in for very long and being reserve it's a little different because we haven't had to move yet, but I have had the opportunity to meet a lot of awesome people through this lifestyle.

8. Do you live on base?
Nope, currently reserve
9. What is your favorite base so far?
I've only visited we've never lived at one. I'm sure Stephen would disagree, but I liked Lackland.

10. What is the hardest part of the military life?
Being apart and the schedule. Luckily Stephen is on days, but some of the guys get on crazy schedules.

11. Do you go to the grocery store or Commissary?
Both. The commissary is a bit of a drive for us since we don't live on base. When we're doing a lot of shopping we go to the commissary, but usually we'll just go to the grocery store

12. Do you work or stay at home?
Work

13. Do you have a lot of military wife friends?
I've met several in the short time Stephen has been in, I've also met the really cool people Stephen has worked/trained with and become good friends with many of them too.

14. Do you prefer Walmart or the BX/PX/NEX/MCX?
Walmart, we don't ever drive over to the BX
15. How did your husband propose?
It was perfect, he did such a good job! But it's a long story and the condensed version doesn't do it justice so I'll let you read about it
here
.
16. Did you marry him after he joined or before?
We'll be married after, but we were engaged before
17. How long have you been together?
Since November 29, 2007
18. Any kids?
Just our Natty dog.. the best American bulldog ever :)
19. Any kids yet to come?
We both definitley want kids.. but in a few years, we just want to get married and enjoy the honeymoon phase first!

20. Is your husband one of those "I am soldier hear me HOOAH" kind of guys?
Not at all.. he's kind of the opposite actually
21. Have you ever done combatives with your husband?
Umm.. no.
22. How many bases have you lived at?
None
23. If you could change one thing about the military?
Sometimes, they just aren't very efficient
24. Do you like military balls?
I've never been, but I'm sure I would.. any excuse to get all dressed up!

25. Where does your family live?
Both of our families live here. Mine in Pensacola, his in Pace

26. What do you do for a job?
Currently I work part time as a receptionist in an optometrist's office, but I graduate at the end of the month and will be looking for something full time
27. Have you ever gotten in a fight with an NCO's wife?
No

28. Name one thing you do when your husband is gone.
Spend a LOT of time at my parents, watch ridiculous tv, and go to the gym more
29. Do you think other wives do that too?
Yes, definitley