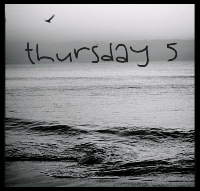 Yup that's right! Believe it or not it's that time again.. here we are at Thursday(well, almost)! Which means almost the weekend! So here are this Thursday's words to get us through this last pre-weekend day:
1) I made homemade stuffed pasta shells tonight and baked a cake. My mom came over to eat with us! My dad was supposed to come too, buuuuut he gets lazy at night. Never the less, we had a very
Delightful
time! We ate then watched two movies. It was the first time Mom saw Date Night and The Hangover. Laughed so hard my sides hurt! :)
2) I finished my LAST PR project today and that makes me VERY
Happy
!!! :) I have one more little interview tomorrow then it's smooth sailing to graduation. I still have other classes but they're not hard, so i'm pretty ecstatic!
3) Stephen has UTA weekend this weekend which makes me sad. It's a super UTA which means he'll be out at the base for 4 full days, BUT he has a job interview in the morning which is
Superb
! I'm really hoping he gets that and can keep the AF just to reservist weekends for now, we would be set for a while. But if not, he starts work at seasoning training on Tuesday, which is also superb because either way it's back to work for him! (Although I will miss coming home to a cleaned house everyday!)
4) Hmm.. this is a fun word this week, check out these
Gorgeous
invitations that my friend Jen from Gaboodles, Ink made for my bridal shower next weekend! Go check out her awesome site, you'll find something you have to have!
Besides my fun invitations, the weather here has been
Gorgeous
!!! (Well, minus this morning, but it cleared up!) It's beach time again!
5) My sweet man bought me roses yesterday just because he knew I was stressed out and having a long week. Talk about feeling
Loved
!! That boy sure does know how to make me smile!! And only 51 days til he's mine all mine forever!!
Since it's not quite Thursday yet, I hope you all have a wonderful one! If you find yourself having a not so wonderful one just remember that tomorrow is Friday! Woo! :)