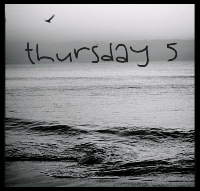 Yay! Thursday! Which, yes, today means it's St. Patrick's Day.(Happy green beer day to all!) But it's also one of my favorite link up days! Go Join
Flip Flops and Combat Boots
for the Thursday 5! :)
1) Today I am very
Upbeat
about the bike ride we got to take last night! The weather here has been gorgeous! I managed to convince Stephen to join me for about a 3 mile ride, to you fitness buffs that's nothing, but to us it was a bit of a workout!
2) We went to the beach today and the weather and the company was pretty Fantastic

! I love living in paradise and wish this weather would stay all year round!
3) I'm feeling pretty accomplished for finally finishing our wedding registries last night! I also managed to narrow down the songs for our soloist to sing, and looked at bridesmaids shoes. I'll be feeling even more accomplished when I get around to all the homework projects I had intended to finish this week while I was on spring break!!
4) My very

thoughtful

man took out the trash yesterday without me asking! He also took our doggy to the bluffs for some exercise.. I think it wore them both out!
5) Watching The Blind Side with my love, and I just adore Sandra Bullock! She's a

brilliant

actress!
I know that it's been a while since I posted a real blog with some insightful thoughts, but i'm on my way out to enjoy this weather with my pup on a walk and then i'm hitting the gym! Dinner tonight with my whole family, so when I get back it will be blogging time! Until then... Happy Thursday!!