Ahhh alas, It's Thursday! You know what that means! One of my favorite weekly linkups! The Thursday 5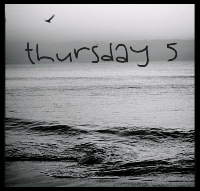 If you want to link up too, head on over to one of my personal favorite
blogs
and check her out! This week's words are:
1) Our premartial counseling on Tuesday night, was
Outstanding
! We had a wonderful talk with our Pastor, and left feeling more confident about our upcoming marriage. We were already sure we were ready, but he had us take one of those compatibility surveys, and to no surprise we killed it! :) (Not that we needed a survey to tell us that!)
2) This is one of my favorite words.. I'm SO

Proud

of my wonderful fiance! He worked so hard through BMT/ tech school! I don't think he'll ever truly understand exactly how PROUD I am of him for going through all that! He is amazing! He's working hard now to make our lives better. Between jobs, plans, and being so helpful, he is amazing! Even though he hasn't been able to start work yet, he cleans the house everyday and helps with any errands I ask him to do to make my life easier while i'm in the middle of all this juggling! I love him more than words could ever say..as corny as it is, he makes my heart feel full. I'm the happiest when I'm just hanging out with him and our puppy dog, Natty!
On a side note, there are two other people I'm very PROUD of too! My awesome baby sister, for being so brave! I think it's awesome that she had the courage to go away to school and she's really doing so well! I'm also very very proud of my sweet cousin! She is such a good mom and I know she's had to grow up faster than everyone else, but she's done it well. It's not always easy but she doesn't give up! I love both of you girls SO much!
3) I have two *MAJOR* projects both due next week which stresses me out immensely. Normally, I put these things off to the last minute, but to my surprise I'm welllll ahead of the curve! I'm almost done with not one, but both of the projects! Thinking about being finished early and not stressing the night before has left me feeling very
Energized
! Maybe I will survive the last little bit of college!
4) Speaking of college, I'm in my last month! This news is simply

splendid

!! Now to find a full time job so all this time in school will finally pay off. It will be so nice not to be juggling so many schedules! I'm not sure what I'll do! (I'm sure I'll think of something! ;))
5) I'm so excited! Some of my mom's

wonderful

friends from high school are throwing me a bridal shower! 2 weeks from now the wedding festivities really get started! I knew it was getting closer, but now it all seems even more real! I'm just so blessed with all the wonderful people in my life! We wouldn't be where without them! i'm so grateful for mom's amazingly thoughtful friends throwing my shower!! :D
Hope everyone has a fantastic Thursday! Just remember.. we're one day closer to the weekend!